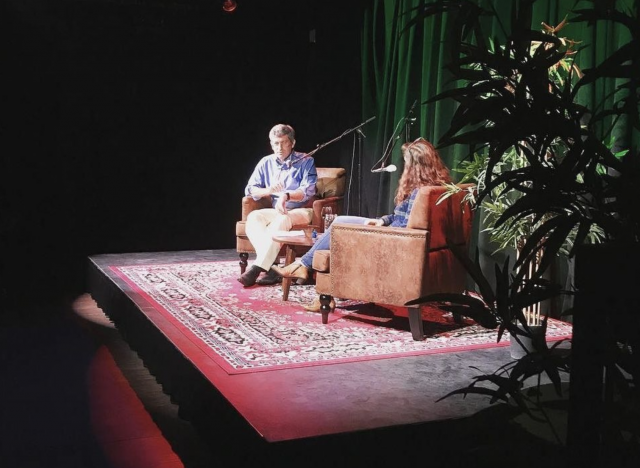 It was a sold-out night on Wednesday at Caveat, the new New York science-themed venue that's hosting my live series, "What is Life?" this fall.
I talked to a philosopher and an astrobiologist about how they define life, bringing out some props to figure out where they stand, life-wise: some lichen from my yard, a wind-up toy, a vial of viruses, and a rusty nail.
Sara Imari Walker of Arizona State University (in the photo) told the audience that I was talking about life as a thing, whereas she thought of it as a process. I took an applause-based survey, and discovered that they agreed.
The next Caveat conversation will be on November 1. The question of the night will be, How did life start?
Earlier on Wednesday, I gave the keynote talk at a meeting at Rockefeller University called "Science, Democracy, and Journalism." I explored a disastrous episode in the history of science, when the Soviet Union turned away from biology and persecuted geneticists. I found some disturbing parallels to the state of science in the United States today. I posted the text of my speech on Medium, with links and sources.
Upcoming Talks
October 4, Boston, Festival of Genomics. "Game of Genomes: How the Public Can Learn About Genomics Through about Their Own Genomes." A panel discussion with some of the scientists who helped me with
my series for Stat.
October 11, Stony Brook University, New York: Provost's Lecture.
October 28 & 29, San Francisco. World Conference of Science Journalists. I'll be speaking at two sessions. Details here.
November 1, New York. "What Is Life?" Night 2: How did life start?
November 8, University of Oxford. Twelfth Annual Baruch Blumberg Lecture
December 6, New York. "What Is Life?" Night 3: Is life inevitable?
December 20, New York. "What Is Life?" Night 4: What did the first life look like?
January 3-7, 2018 San Francisco: Society for Integrative and Comparative Biology Annual Meeting, Plenary Lecture
NEW: February 15, 2018: Rochester, NY: Neilly Lecture Series, River Campus Libraries.

The End
As always, if you have friends who would enjoy getting this newsletter, please let them know they can
sign up
at http://tinyletter.com/carlzimmer.
You can also follow me on Twitter, Facebook, Goodreads. LinkedIn, and Google+. And there's always carlzimmer.com.
Best wishes, Carl
Originally published September 8, 2017. Copyright 2017 Carl Zimmer.